2020 Honda Civic Si Launching with Style and Performance
Car buyers are interested in vehicles that are stylish, fun, and functional. The 2020 Honda Civic Si combines all three of these qualities. This latest Honda vehicle is launching with styling and performance updates that you don't want to miss.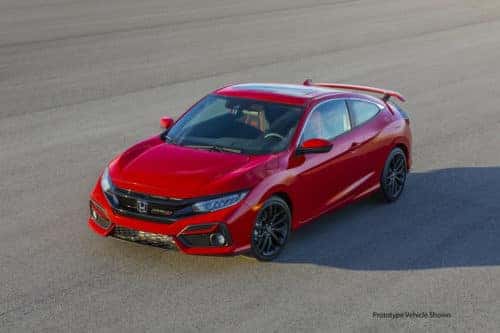 The Honda Civic is one of America's favorite vehicles. This sedan is agile, practical, and attractive. The 2020 Honda Civic Si takes all of these features to the next level. The vehicle has a more responsive engine, as well as increased style and revised driving dynamics.
The 2020 Honda Civic Si is powered by a 1.5 liter direct-injected and turbocharged inline four-cylinder engine. This engine is mated to a six-speed manual transmission. The transmission is responsive, smooth, and fun to use. New for 2020, the Honda Civic Si also has a 6 percent shorter final drive ratio, which improves acceleration.
The exterior of the 2020 Honda Civic Si is eye-catching. The vehicle has bold styling that is sporty and aggressive. For example, the trim of the vehicle is a glossy black, while the crossbar matches the body's color. There's also a wing grille crossbar, updated headlights, and multi-element LED lamps that are wider and longer than previous model years. Find new matte black 18-inch wheels wrapped in all-season performance tires on the 2020 Civic Si.
If you're interested in the sporty and stylish 2020 Honda Civic Si, check out Millennium Honda! Keep an eye on our dealership to catch the release date of this outstanding new vehicle. You can find Millennium Honda at 286 N Franklin Street in Hempstead, or you can call us at 844-513-1896 today! We hope to hear from you soon and look forward to showing off the 2020 Honda Civic Si.