Don't Miss Out on These Maintenance Tasks!
Sure, taking your vehicle in for routine maintenance can feel like you're spending a lot of money for no reason. However, routine maintenance is actually extremely important and worth every penny. Don't miss out on these maintenance tasks!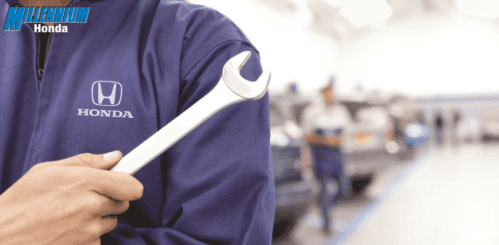 When caring for your Honda, it is notably important to have your brakes inspected and replaced often. Every time you put your foot on the brakes, they are wearing. After some time, you may start to hear your brakes squeaking. This squeaking implies that your brakes are in need of attention. Usually, squeaking brakes have damaged rotors or rust. At this point, the brakes should be replaced.
Oil and fuel changes are another important routine maintenance to be performed on your Honda vehicle. Be sure to change your oil at least twice a year, if not on the regular basis provided in your Honda's owner's manual. Fluid changes can also be found in the manual, or your local technician can recommend the proper amount of changes. Some fluids that need to be changed are power steering fluids, transmission fluids, and coolant.
The timing belt of new Honda vehicles can experience damage over time. To avoid this damage, consider checking that your timing belt is properly fitted and inspected on a regular basis. If your timing belt is damaged, your engine will not be able to run properly.
Did you know that there are different fuels for different times of the year? Summer and winter fuels can be found in northern climates. When the weather changes, make sure you're using the correct fuel for optimal performance. Winter fuel is more volatile, while summer fuels are less volatile.
Now that you know more about important Honda vehicle maintenance, take your vehicle to the service and parts garage at Millennium Honda! We are conveniently located at 286 N Franklin Street in Hempstead, and we look forward to caring for your vehicle.
Honda Dealership near Levittown | Nassau County Honda Maintenance Taks