Which One Should You Choose? Honda Civic vc Accord
Individuals shopping for a four-door sedan have several appealing options. Two of the most popular sedans
on the market today are the Honda Accord and the Honda Civic. To decide which vehicle is right for you, just continue reading.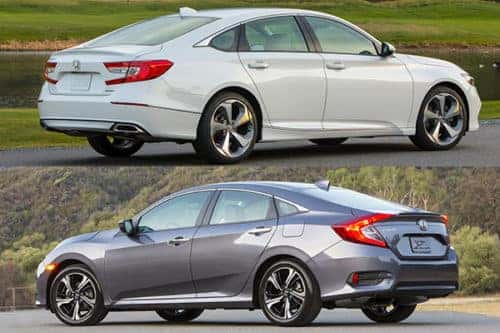 The 2019 Honda Accord is a midsize sedan, while the 2019 Honda Civic is a compact car. If you're seeking a vehicle that is more spacious for your family and friends, the Accord offers greater headroom, legroom, and shoulder room. On the other hand, drivers seeking a vehicle that is more compact for city driving and parking can opt for the sensibly sized Civic.
The standard 2019 Honda Accord is powered by a turbocharged 1.5-liter, inline four engine. This engine earns up to 192 horsepower at 5,500 rotations per minute (rpm) and 192-pound-feet of torque at 1,600 rpm. This engine is paired with a continuously variable transmission. Select the Accord if you're interested in power and strength.
Under the hood of the standard 2019 Honda Civic is a 2.0 liter inline four engine. This engine is matched with a manual, six-speed transmission and earns 158 horsepower at 6,500 rpm and 138-pound-feet of torque at 4,200 rpm. The 2019 Civic isn't as strong as the Accord, but it is more efficient.
Did you decide which vehicle is best for you? If not, come test drive both the 2019 Honda Accord and the 2019 Civic at Millennium Honda! Check out these sedans at our new and used Honda dealership today. You can find Millennium Honda at 286 N Franklin Street in Hempstead.
Honda Dealership near Oceanside | Honda Civic vs Honda Accord