Don't Avoid These Important Honda Maintenance Services!
Taking care of your New York vehicle is an important responsibility. You may be intimidated to stop by your local service center, but the costs of routine maintenance are far less expensive than the costs of major damages caused by neglect. Don't avoid the following important Honda maintenance services. Instead, visit the Millennium Honda service center frequently and keep your vehicle running in outstanding condition.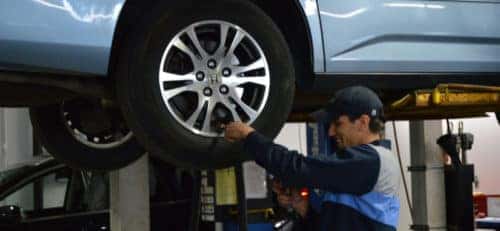 1. Brake checks
You will know when your brakes are on their last leg when they make squealing or screeching noises. However, these noises can escalate into grinding sounds that might imply greater damage. Instead of letting your brakes get this bad, visit your local Honda service center and have your brake fluid, pads and rotors inspected.
2. Winter and summer fuel
Winter and summer fuels are blended fuels designed to help your vehicle run appropriately during respective times of the year. Winter fuels are high-volatiles gases that help Hondas start up quicker and have less restriction. Summer fuels are less volatile and won't percolate in your fuel tank in warmer temperatures. If you want to be sure you are filling your tank with the appropriate fuels, be sure to visit a name brand gas station.
3. Fluid and oil changes
Oil changes are essential to keeping your vehicle running smoothly. Newer vehicles need an oil change at least every 5,000 miles, while older vehicles should have this service done every 3,000 miles minimally. Make sure you are also replacing your air filter with every oil change. Other fluids, such as motor oil, brake line fluids, transmission fluids, power steering fluids, windshield wiper fluids, antifreeze, and coolant need attention as well. Consider replacing all of these fluids at least every two years.
4. Timing belts
If a timing belt breaks, cracks or comes loose, your entire vehicle can stop working. Damage to the timing belt can shut your motor down or cause engine damage. These repairs can be serious, so consider having your timing belt inspected frequently to prevent any further problems.
Now that you know what repairs should not be avoided, you're ready to bring your vehicle to Millennium Honda. Our service department can keep your vehicle running like new, so visit us at 286 N Franklin Street in Hempstead, New York, today!
NY Honda Dealership | Long Island Honda Service