Lease End Options
If you have leased a vehicle from Millennium Honda and the lease is about to end, you may have questions about your options at this point. Here are some details on how to proceed at the end of your lease:
Enter a New Lease After Returning the Vehicle
You can return your existing vehicle to Millennium Honda and start a lease on a new vehicle. Here are the steps you should take:
A couple of months before the lease ends, contact our leasing specialists to let them know you are returning the current vehicle, and plan to start a new lease. We will provide you with the necessary information needed to do this.
Set an appointment with our team to inspect the leased vehicle for mileage and wear and tear. Any repairs needed under warranty will be fixed, you are responsible for other repairs or damage not covered by warranty.
Make an appointment one week before the end of warranty. Bring all the keys, paperwork, manuals, and any receipts for repairs under your responsibility.
If you plan to lease another vehicle from us, we can then discuss setting up a new lease.
Return Your Vehicle and Buy a New Honda
The process for returning your current leased vehicle is the same as described above. Once the leasing arrangements have been terminated, talk to our sales professionals about which new Honda interests you and we will work out a sales contract for you.
Buy Your Current Leased Honda
If you would like to purchase your current leased vehicle, that is possible. Here's what will happen:
You should notify us you plan to purchase the vehicle. We will determine the payoff value for the vehicle which is in effect the depreciated value at the end of the lease.
The vehicle will not need to be inspected by us for mileage or wear because you are purchasing it.
You can either provide a payoff amount in total, or you should discuss financing options with us. Keep in mind that new vehicle financing specials will not be available for your vehicle because it is a used vehicle you are purchasing. The interest rate of your loan will be impacted by your credit rating and other factors. Contact us for full details.
Sign a purchase contract for your vehicle and now you are the owner of a quality used Honda!
If you have any questions about the various options at the end of leasing, please contact us here at Millennium Honda and we will be happy to discuss them with you.
---
---
VIEW CURRENT INVENTORY
APPLY FOR FINANCING
CONTACT US
---
Stop in and see us at 286 N Franklin St. using the Southern State Parkway, or Grand Central Parkway, we're accessible by car, and near the Country Life Press LIRR stop. Use our map tool for directions from your specific location.
---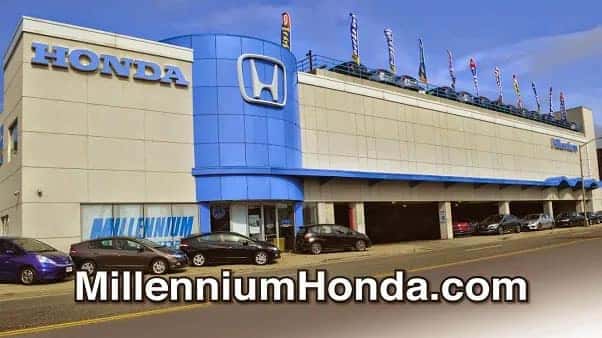 ---
If you have any questions, or want to see how you can benefit from a new Honda, feel free to contact us online and we'd be happy to help you today.
Honda Lease near Queens NY | Car Dealership Valley Stream