The Accord Features are Sure to Excite You!
Honda made a name for itself with its consistent delivery of high-quality dependable vehicles and has continued to refine that reputation with constant innovations. Of Honda's large stable of vehicles, the Accord stands out amongst the rest as the most iconic and best-loved Honda vehicle.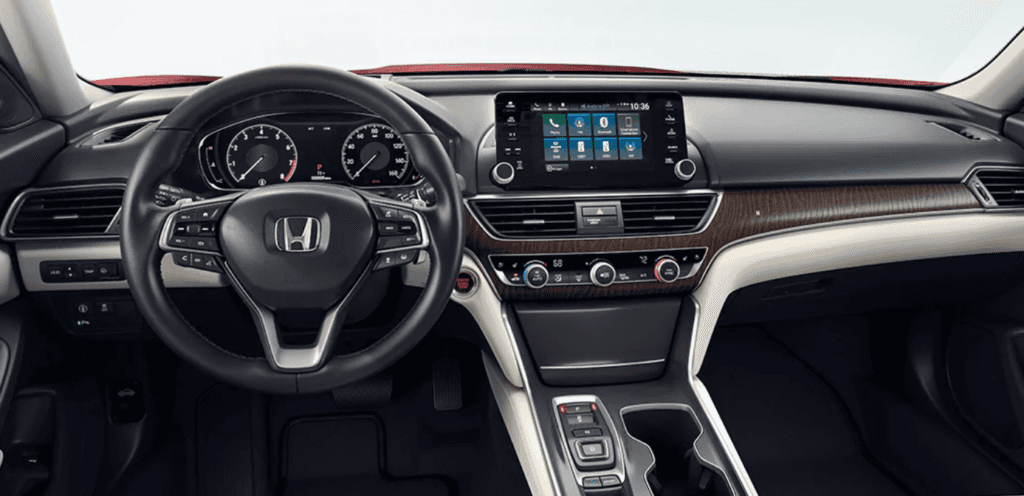 Part of what makes the Accord so attractive to drivers is its suite of sophisticated tech options. For instance, take Apple CarPlay and Android Auto compatibility, which allows seamless integration of your favorite songs and media with the on-board sound system. Accessible through an 8-inch display screen, all of your albums, songs and podcasts are available at the touch of your finger. An additional wireless charging system, compatible with most smartphones, ensures your device remains fully charged as well.
Music and media aren't the only connective options available in the Accord. Utilizing state of the art Bluetooth technology, your Accord can sync with your phone to provide hands-free communication. Whether you are placing or receiving a call, the entire process can be completed with both hands firmly on the wheel. This Bluetooth capability is standard across all Accord trims, ensuring you are able to remain safely on the road without missing a beat.
In addition to intelligent media and communication features, the Accord is also equipped to provide navigational support. Featuring a Satellite-Linked interface, the onboard navigation system is accessible via the 8-inch display mentioned earlier. Replete with a visual guide and intuitive interface, the Honda's Satellite-Linked Navigation system will get you where you need to go.
While many of the technologies we've discussed here are exciting and useful, perhaps none are as important as the safety systems that work tirelessly to keep you and your occupants safe from harm. From a Multi-Angle review camera, which provides multiple camera feeds to guide you perfectly in and out of parking spots, to Honda's LaneWatch blindspot monitoring system that provides you with critical information while changing lanes, the Honda safety suite is unparalleled in what it can offer.
The items mentioned here constitute a small fraction of the features available in the Honda Accord. If you are interested in learning more or even viewing an Accord for yourself, we encourage you to visit our showroom located at 286 N Franklin Street in Hempstead. We are Millennium Honda and it would be our genuine pleasure to show you what the Accord has to offer.