The Family Fun Minivan
Transporting people and their cargo around town can be quite an adventure, but few vehicles make it as simple and enjoyable a task as the 2019 Honda Odyssey. Combining outstanding capacity with matchless entertainment and comfort, the Odyssey checks all the right boxes.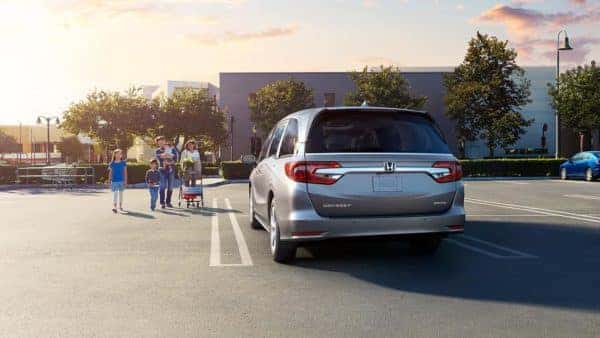 Honda designed the Odyssey with very specific needs in mind. A family vehicle through and through, the 2019 Odyssey contains several novel features that make it stand out from the common market fare. Perhaps chief among these are the Magic Slide seats, a clever seating system that allows total manipulation of the 2nd row in all directions. Perfect for customizing each trip, the Magic Slide system allows you to overcome packing obstacles with ease. Additionally, an available built-in vacuum system gives you more time to relax by cutting post-trip clean-up time in half. The 2019 Honda Odyssey allows you to take everything in stride and keep on driving.
Clever convenience is only one component of the technological innovation to be found on the 2019 Odyssey. Tech features are an important part of keeping a crew happy and comfortable during a long voyage and the Odyssey has you covered with a variety of cutting-edge features. From Rear Entertainment add-ons to an available moonroof and leather seats, your passengers can travel in style, while a CabinTalk interior PA system ensures seamless communication throughout the cabin. Should your passengers prefer to use their own devices, an available built-in 4G LTE system will ensure they remain connected.
The 2019 Honda Odyssey is the pinnacle of Honda's passenger technology, allowing passengers access to unparalleled comforts and amenities while providing them a safe and capable transport for their cargo and themselves.
Millennium Honda is a premier dealer of Honda vehicles, serving the Queens, Oceanside, Rockville, Baldwin and Levittown area. In addition to our fine selection of vehicles, Millennium is also dedicated to ensuring you peace of mind, with a world-class finance team that will find you the best solution for purchasing the vehicle of your dreams.
Honda Dealership near Queens | 2019 Honda Odyssey in Hempstead, NY