The Honda HR-V Can Be Yours This Spring
Choosing a car is a very individual decision, but when you see the right one, the choice makes itself. The 2019 Honda HR-V is a great model that almost sells itself. Let's take a look at what makes it a great option for you!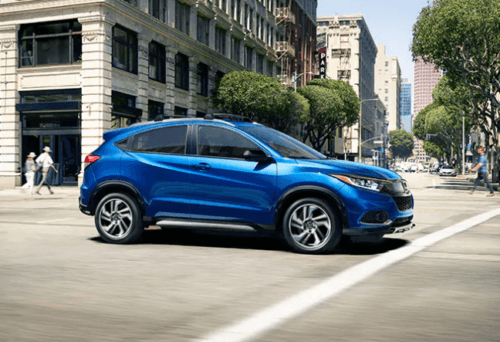 Safe Driving
The 2019 Honda HR-V is a compact crossover SUV with many desirable features. For starters, the Honda HR-V has Honda Sensing®, including adaptive cruise control, a collision mitigation braking system, a system for keeping in lanes, and a system for correcting lane departures. There is also a multi-angle camera in the rear to help with parking and backing up.
Smartphone use in the Honda HR-V is enhanced by linking, allowing hands-free texting, music streaming, and the use of other apps. There is also Bluetooth compatibility and a proprietary feature, or app, called HondaLink®. This app can help by storing parking spots, letting the driver know remaining miles to empty, and reminding drivers about important servicing dates.
Well-Built
The 2019 Honda HR-V is a subcompact crossover SUV with two rows of seats. The second seat will adjust for additional cargo space. Still, the back seat is surprisingly roomy, so you can easily have four adults in the car without being cramped. You can also adjust the back seat so tall cargo can be stowed. The 2019 Honda HR-V is a rare entry in the compact SUV category with both good passenger rear seat room and more than adequate storage space. And, yes, add to that list of "pluses" the smaller dimensions of a compact SUV for driving in congested cities and high-speed bumper-to-bumper traffic. This vehicle is a great family option.
If you want to see the 2019 Honda HR-V in action, just call Millennium Honda today at 516-874-7535, or visit us at 286 North Franklin Street in Hempstead.
2019 Honda HR-V | Honda Dealership near Valley Stream