The Passport is "Best New Car for 2019"
The 2019 Honda Passport has a lot to offer to car buyers. This SUV combines sportiness with practicality, making it a functional and fun vehicle ideal for individuals and families alike. Plus, the 2019 Honda Passport earned an Autotrader 'Best New Car for 2019' award.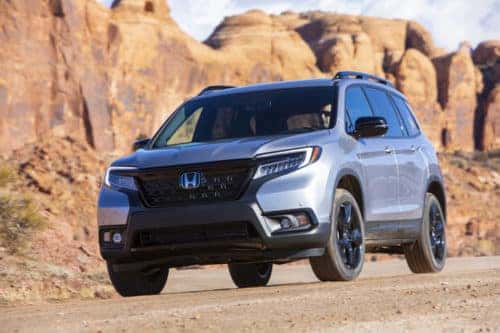 This year, Autotrader recognized only 12 new vehicles with a "Best New Car for 2019" award. Each vehicle is chosen through a unanimous decision by the publication's editorial experts.
"The Passport is one of the few SUVs where the 'sport' and 'utility' totally and tangibly make sense in the same vehicle," said Brian Moody, executive editor for Autotrader. "We like the Passport because of its rugged look and just the way it comes off like a younger, feistier version of the Honda Pilot," he continued in the Honda News press release.
The 2019 Honda Passport first hit the road in February of 2019. It combines on-road driving refinement with off-road capabilities, as well as best-in-class interior space. The versatile vehicle offers something for everyone, making it an excellent option for car buyers of all walks of life.
The new Honda Passport was created by Honda R&D Americas, made by Honda in Lincoln, Alabama at the company's plant. This vehicle is made alongside the Honda Ridgeline pickup truck, the Honda Pilot three-row SUV, and the Honda Odyssey minivan. All Passports are made with domestic and globally-sourced parts that are of high quality and craftsmanship.
If you're considering the 2019 Honda Passport, come see this remarkable SUV for yourself at Millennium Honda. You can become the proud owner of an award-winning vehicle by visiting our dealership today. Find Millennium Honda at 286 N Franklin Street in Hempstead, or call us at 844-513-2028 for more details about the Passport. We hope to see you at our location soon!
Honda Dealership near Queens