The Refined Pickup: 2019 Honda Ridgeline
Honda has made great strides in recent years to become more competitive in the field of pickup trucks, vying to carve out a slice of the market from major figures in the industry such as GM and Toyota. With the introduction of the Honda Ridgeline, winner of Car and Driver's 10Best award for for mid-size pickups for two years running*, the future has never looked brighter for Honda pickups.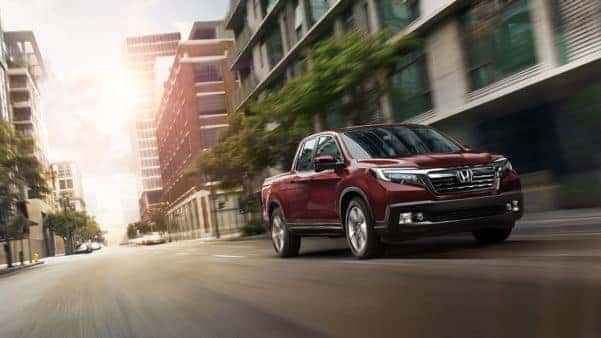 The secret to the Ridgeline's success is the addition of popular features generally found in sedans, granting it a 'carlike' construction that pays off in efficiency and refinement.
Although inspired by carlike features and design, the 2019 Ridgeline is still all truck. With a four-door crew cab, each Ridgeline is equipped with a 280-hp 3.5-liter V-6 engine mated to an automatic transmission on an independent suspension. An additional all-wheel drive system is also available for those who want to tackle any terrain. The Ridgeline is capable of towing up to 5000-pounds while still maintaining a best-in-class ride and maneuverability.
In addition to all of the features you'd expect from a pickup truck, the 2019 Honda Ridgeline also includes several amenities that are novel for its type. Included beneath the cargo floor is a lockable, waterproof trunk that provides up to seven cubic feet of secure storage. Honda paid a great deal of attention to the bed, including features such as a screwed-in plug for draining the compartment and a dual-hinged tailgate that allows for easy access under a variety of conditions.
Combining the best aspects of their stellar vehicle line-up with traditional pickup features, Honda achieved a kind of magic with the Ridgeline that just can't be described. The 2019 Honda Ridgeline is the ideal vehicle for drivers that want pickup capabilities but expect a little more refinement from their vehicle than the competition can muster.
Millennium Honda is a top dealer in the Queens area, serving the communities of Oceanside, Rockville, Baldwin and Levittown. Featuring a wide selection of new and pre-owned Honda vehicles, Millennium is the dealer of choice for those with a need for quality.
*2016 & 2017 Car and Driver: https://www.caranddriver.com/reviews/2019-honda-ridgeline-long-term-test-intro-review
Dealerships in Hempstead | Long Island Honda Ridgeline