The Versatile Honda HR-V
Honda vehicles are renowned for their value and reliability, capable of offering premium quality options within an affordable range. The 2019 Honda HR-V, the latest in a proud line, is a fine example of Honda's commitment to excellence.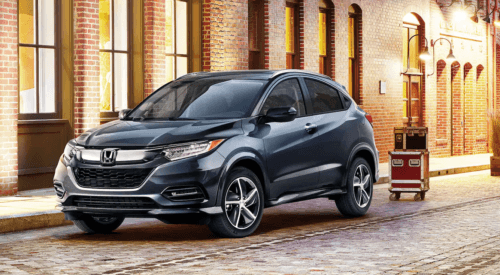 While offering a wide array of possibilities, perhaps the most impressive features of the 2019 HR-V are found beneath the hood. Equipped with a 1.8-liter 4-cylinder standard engine, the HR-V pumps out 141 horsepower and is capable of cranking 127 lb-ft of torque. Mated to a Continuously Variable Transmission, the 2019 HR-V provides a smooth and powerful ride that should be appealing to drivers of all stripes.
Aside from its mechanical prowess, the HR-V is packed with additional amenities that force it out in front of the pack. A 7-inch display in the center console serves as an access point to several available features, including a multi-angle rearview camera, Apple CarPlay and access to audible text messages. Combined with premium cabin options such as warmed seats and auto-dimming rearview mirrors, the HR-V is capable of being tuned to your unique tastes.
As impressive as the cabin is, the most important technology is reserved for safety. The renowned Honda Sensing suite is available on the 2019 HR-V, providing cutting-edge safety equipment to protect you and yours. Including features such as a Collision Mitigation Braking System that automatically applies the brakes in the event of an emergency, to Road Departure Mitigation, Adaptive Cruise Control, and Lane Keeping Assist that all work in concert to keep you on the straight and narrow. Regardless of the situations that you may find yourself in, you can rest assured knowing that the HR-V has a steady hand on the wheel.
The 2019 Honda HR-V is a crossover that capitalizes on the greatest features offered by Honda, packaged and engineered into a fun and flexible frame that is as gentle with your passengers as it is on your wallet.
Millennium Honda is a premier dealer of Honda vehicles located in the Queens area. Featuring a large selection of pre-owned and new Honda vehicles, our professional staff stands ready to provide you with a world-class customer service experience with each and every visit. If you are interested in viewing a Honda vehicle for yourself, we invite you to visit our showroom at 286 N Franklin Street in Hempstead. We are Millennium Honda and it is our genuine pleasure to serve you!