Keep Your Vehicle's Performance High with Honda Service Near Oceanside, Rockville, Baldwin, and Levittown
New Extended Hours!!  Mon-Fri. 7am-10pm, Sat. 7am-5pm, Sun. 8am-4pm.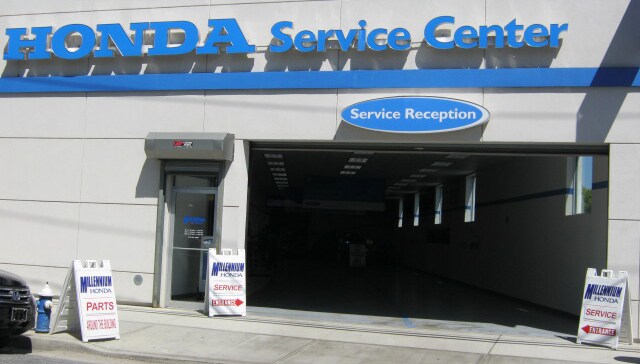 Allow Millennium Honda of Hempstead to Introduce Ourselves

Welcome to Millennium Honda's online Service Center.  Millennium Honda provides car repair and service in Hempstead to all makes and models. Our trained repair technicians quickly diagnose and repair your vehicle's problem. Speak to one of our car repair experts today. Fill out our Service Appointment Form or our Express Service Appointment Form, or simply give us a call at (888) 237-1811 to schedule a service appointment today!

Regular maintenance helps your car run smoothly and for a long time to come. Let our Hempstead car repair center make manufacturer service quick and easy for you. Our Honda auto repair center does oil changes, tire rotations, fluid flushes, engine tune-ups and more.
There's nothing better than having a reliable vehicle. If you can drive a new Accord, Civic, CR-V, Odyssey, Pilot to 100,000-, 200,000, or even 300,000-mile marks, that's a big source of pride. Or, maybe you figure your car will be passed on to another owner that's close to you one day. No matter what, you want a vehicle that lasts.
So, what's the best course of action to achieve that goal? You can start by following the recommended car service and maintenance schedule from the manufacturer itself. Leaving your vehicle in the hands of our specialists can take care of routine check-ups, diagnostics, and many different repair needs.
That includes:
Wiper Blade replacement

Winter Tires
Winter Maintenance
Tire rotations
Brake repairs
Oil changes
Multi-point inspections
Plus much more with Honda parts
Schedule an appointment with us, or give the Millennium Honda service department a call. We're happy to work with you, and keep you and your vehicle on the road safely and confidently for a long time to come.